Used WIDEWHEEL D4+3.0 10"-3200W-52V 23.4AH
Subcribe to back in stock notification
customers are viewing this product
US:In Stock


Model
D4 +3.0

Folded Dimension

50" x 11" x 51"

Range
40 MILES / 64KM

Dual Drive
1600w*2
Max Speed
75 KMH / 45 MPH
Lithium Battery

52V 23.4Ah Lithium-Ion

Tire

10"

off-road tires
Net weight
70lbs
Load capacity

MAX 330lbs / 150kg

Brake

Dual Hydraulic Brake

Charger

2 ports (comes with 1 charger)

Charging time
9-10 hours with 1 charge,4-5 h with 2 chargers

Warning:

Do not charge unattended!

Do not charge over 12h!

*Free shipping in USA &Prepaid tax

*Ranges and Speeds varies on riding style and weight of rider
Packing list: E-scooter*1   Charger*1   Scooter key*2      Tool kit*1   Manual*1
D4+ 3.0: Brighter and Better
It is no longer news that the WIDEWHEEL D4+ model is one of the most innovative, versatile, and stylish personal transportation vehicles on the market today. What is new is that the WIDEWHEEL D4+ has a new sibling. It is brighter, better, and more stylish. It's the WIDEWHEEL D4+ 3.0!
Never be Caught 'Unfresh'
Are you tired of electric scooters with the same old colours? Then it's time to light up your style game with the WIDEWHEEL D4+3.0. This baby comes in two brand new color options. You get to choose between metallic blue or fiery red to suit your style!
Portability is the New Cool
One-touch is all it takes to turn your Hulk of a scooter into Jerry mouse, all thanks to WIDEWHEEL's special folding mechanism. With this portability feature, you can quickly and effortlessly fold your D4+ 3.0, pick it up, and transport it wherever you want.
Extraordinary Performance
The WIDEWHEEL D4+ 3.0 is a top-of-the-line electric scooter that comes equipped with the latest technology and features to provide the highest level of performance for scooters within its value range.
The D4+ 3.0 is powered by a powerful 52V 23Ah lithium battery, delivering an impressive 40-mile driving range. Its pair of 10-inch Off road tyre tires and 2 shock absorbers offer you the thrill of hitting top speeds both on and off-road without walloping. And with its highly efficient hydraulic braking system, you are placed in total control.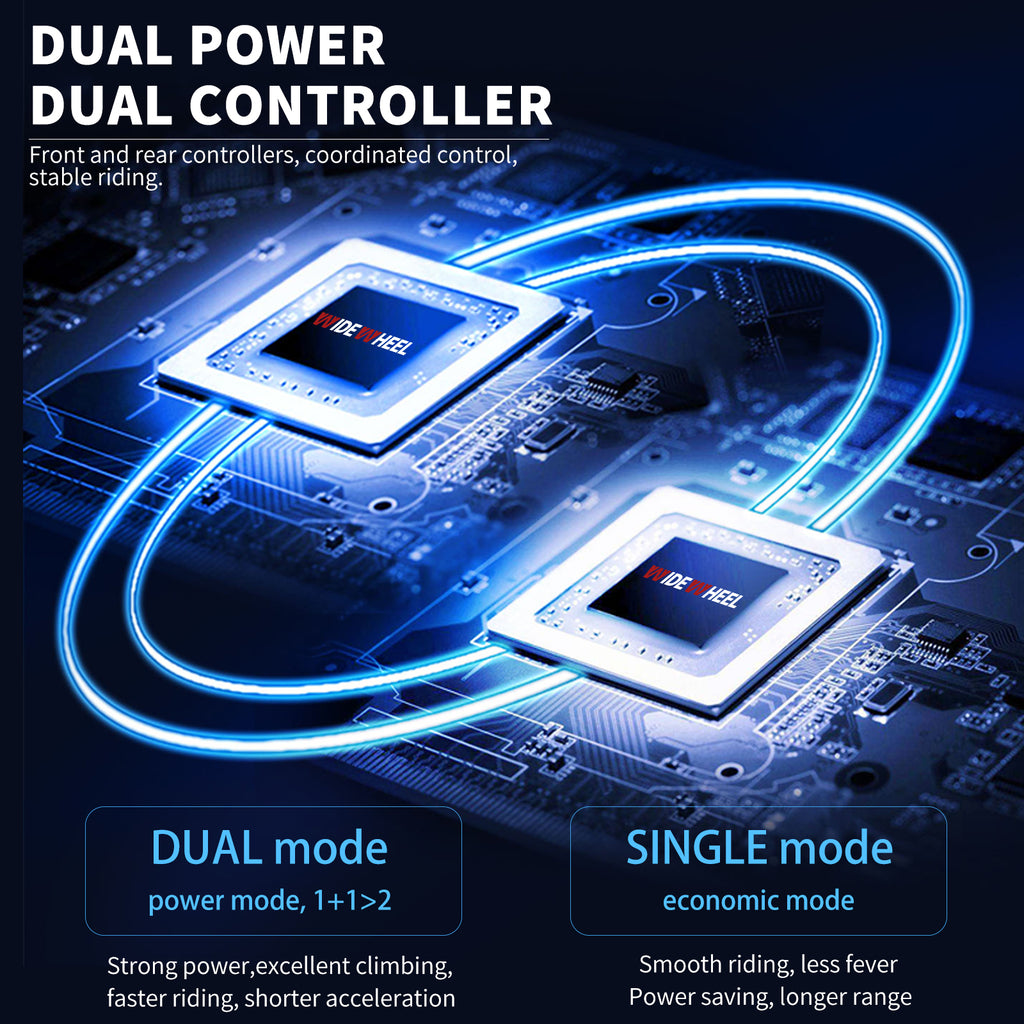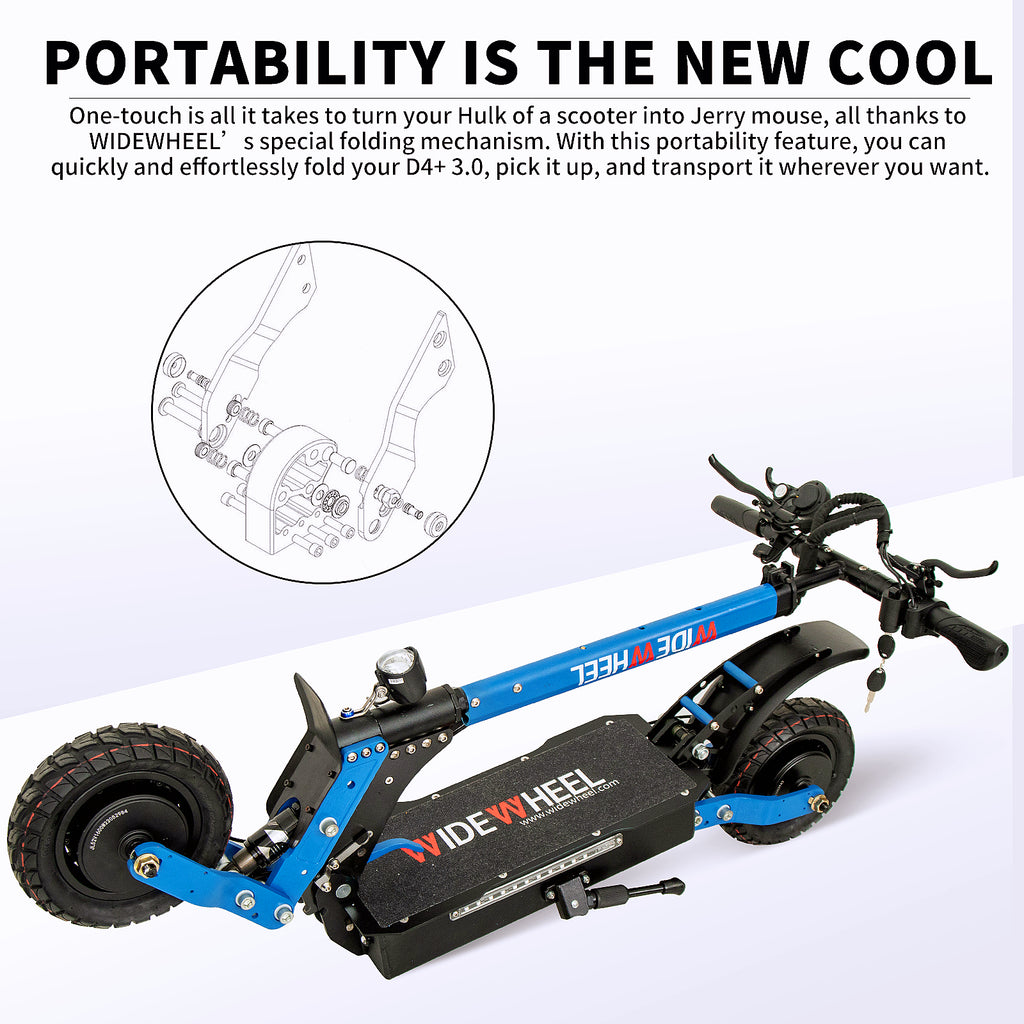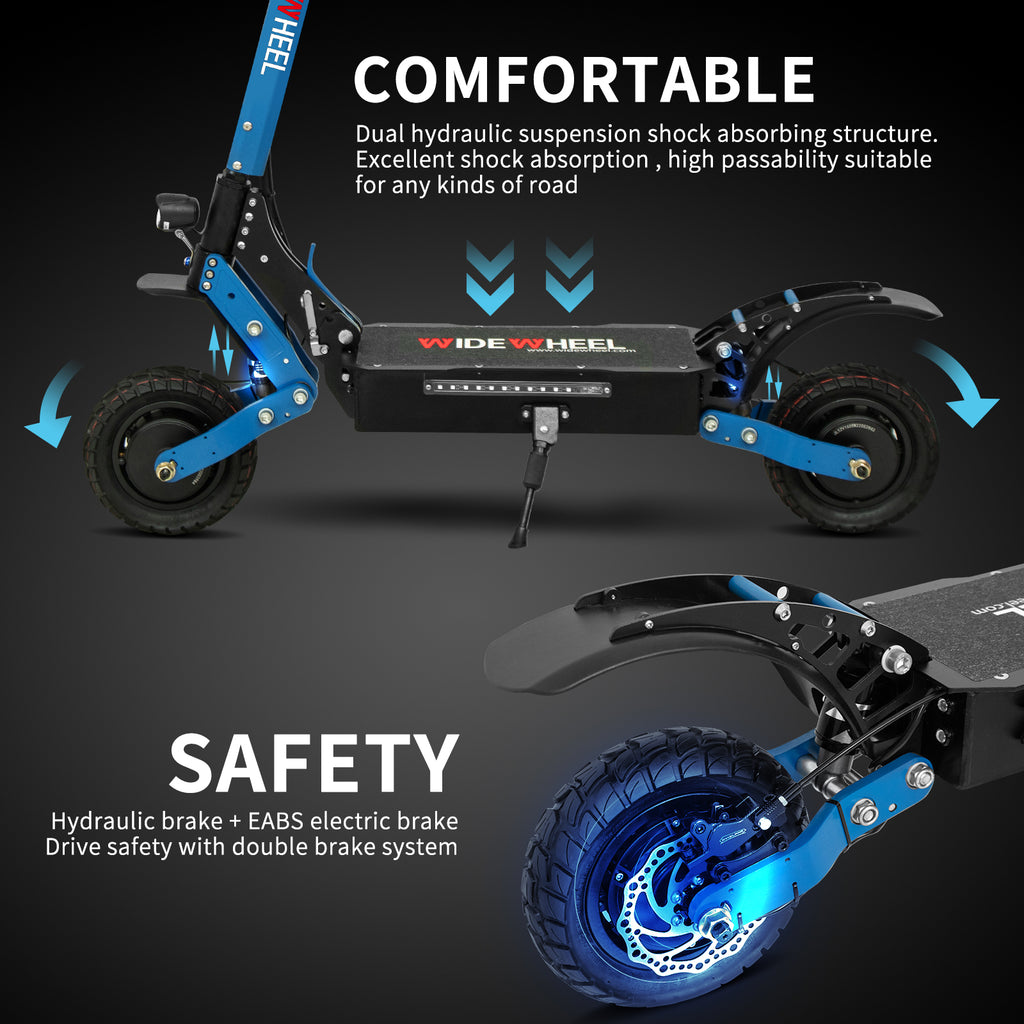 Where can you ship to?
At present, our delivery scope is limited to the United States. If you are in the EU or other regions, we may not be able to ship to you or may require additional charges. For more info on this, don't hesitate to contact us. Thank you for your understanding.
When can I expect to receive my order?
We try to process orders within 24 hours of receipt on working days (Saturday and Sunday orders are usually processed on Monday). Once you place your order, you will receive an order confirmation email. Your order should then be shipped within 48 hours. After your order is shipped, you will receive a shipping confirmation and detailed tracking information by email. Orders from within the United States should arrive within 7-15 days after shipping. For orders in other regions, please contact us at support@widewheel.com.
My shipment is delayed, what can I do?
Once it's past the 15-day delivery timeline and you are yet to receive your package, please contact support@widewheel.com, and if possible, your freight company for more detailed information.
Is it possible to cancel an order?
You can cancel your order before the package is shipped. However, once the package has been shipped, you will need to pay an additional $50 shipping fee to cancel the order. In addition, free shipping, customs tax is paid by our company.
(SORRY BUT WE REGRETFULLY DO NOT ACCEPT SCOOTER RETURNS UNLESS THEY ARE IN THE ORIGINAL PACKAGING, AND HAVE NEVER BEEN RIDDEN) **PLEASE DO NOT THROW AWAY YOUR BOXES**
Prior to returning any product, please contact us at: support@widewheel.com to verify with us first. DO NOT send scooters to the manufacturer OR the address it was shipped from! (If this step is skipped buyer takes full responsibility for all shipping costs to get the package to our warehouse. All lost or damaged packages that were sent back incorrectly will be the responsibility of the buyer)
WE DO NOT ACCEPT ANY PRODUCT BACK FOR ANY REASON AFTER 30 DAYS FROM DATE OF PURCHASE
To qualify for a return the product must be returned undamaged, unused and in its original packaging and same condition as the day it arrived. Buyer pays for ALL shipping costs (original shipment and return)
Damaged Packages in Transit Damaged Boxes: Shipping oversized large items across the country can incur some scuffs around the box, that is normal for all shipping companies across the United States. The purpose of the box is to ensure the unit inside is well protected
If your products are damaged during transit: Please refuse delivery and have the driver note refusal reason as "damaged".
If you are unable to refuse the damaged shipment or if freight damage is concealed, notify us and the freight company immediately.
Shipping related damages must be reported to the freight company and to us within 3 days of receipt of shipment.
Take pictures of the damage and ask the freight company for a confirmation or claim number.
Open a support ticket with WIDEWHEEL Scooters describing the damage, including photos, videos and confirmation number from the freight company. Do not throw away the original packaging!!
All returns purchased from WIDEWHEEL Scooters MUST be shipped back within 10 days of delivery. Once received we will inspect the product and all refunds will be issued within 10 business days of us receiving it. Final amounts will ONLY be issued to the form of payment used for the original purchase.
We do not accept returns of used products and there will be an automatic 10% restocking fee deducted from all unused returned merchandise.
If you would like to exchange your scooter for another option, please contact us and we will make every effort to make that happen. Return shipping charges will be the responsibility of the buyer(Shipping costs are generally $100-120)
All Pre-order cancellations and RETURNED orders made after 24 hours of being placed, will be charged a 10% processing fee. WIDEWHEEL Scooters also reserves the right to refuse any returned scooter we feel does not meet our standards for resell.